Britain's Biggest Rat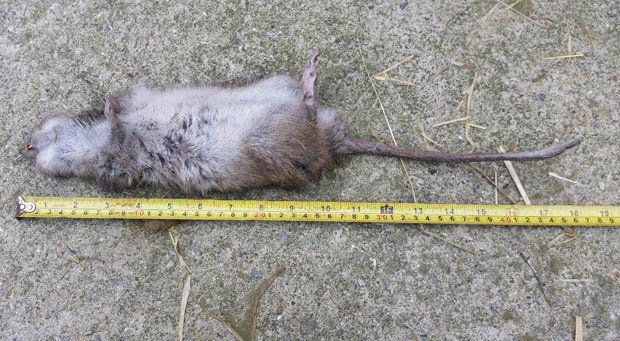 We have recently caught what is believed to be Britain's biggest rat! Rats are becoming an increasing problem for homeowners and businesses across the UK, their numbers are increasing as they have become resistant to various traditional poisons that are commonly used to kill them. We are also seeing an increase in the size of many rats that we catch.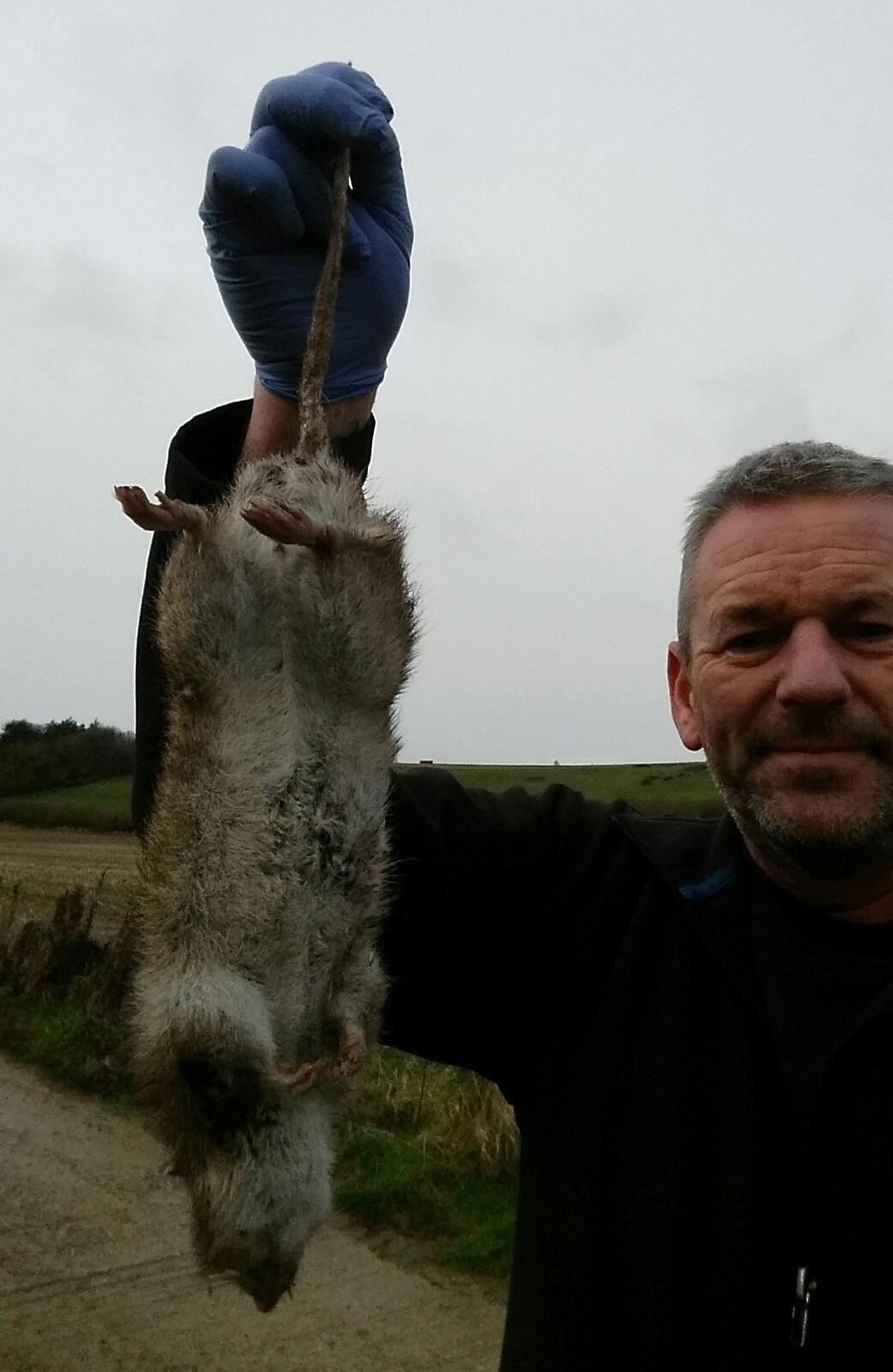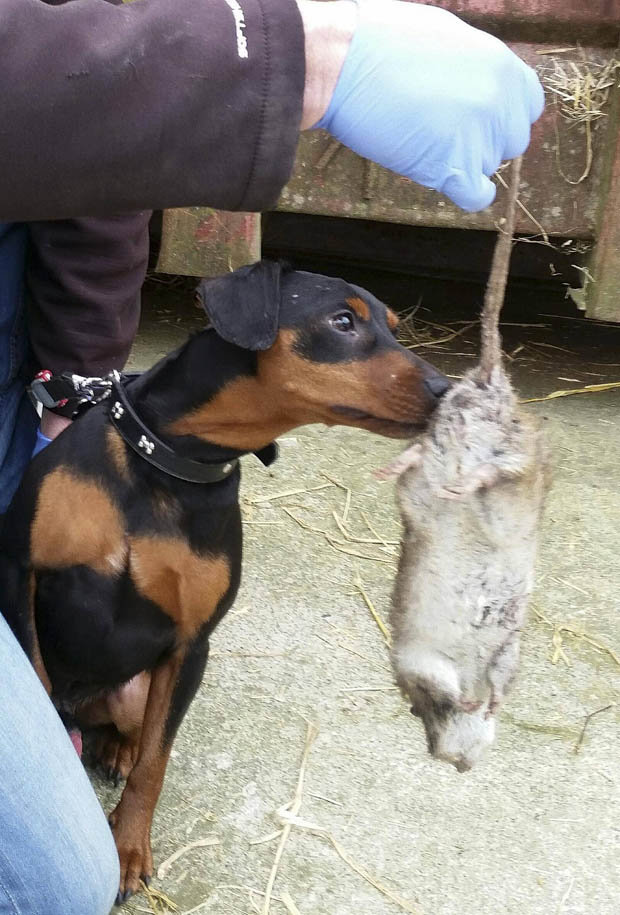 Photo credit: Humphrey Nemar, shooting for The Daily Star
We have recently caught a now notorious 19-inch rat that is believed to be Britain's biggest rat. Terry Walker, the owner of TP Pest Services, was catching rats in Dorset with his faithful friend and expert rat catcher, Max the 18 month old Manchester Terrier cross Pinscher. Max is an expert, having notched up over 200 kills, but this one was different. As Max returned with his catch, the rat was clearly massive, and on inspection it measures a huge 19inches from nose to tail.
Catching 'Britain's Biggest Rat' has led to a media frenzy, with Terry's story being covered in many online blogs and news websites, newspapers and even being featured on ITV News. To watch the ITV News video and find out more about Britain's Biggest Rat, CLICK HERE.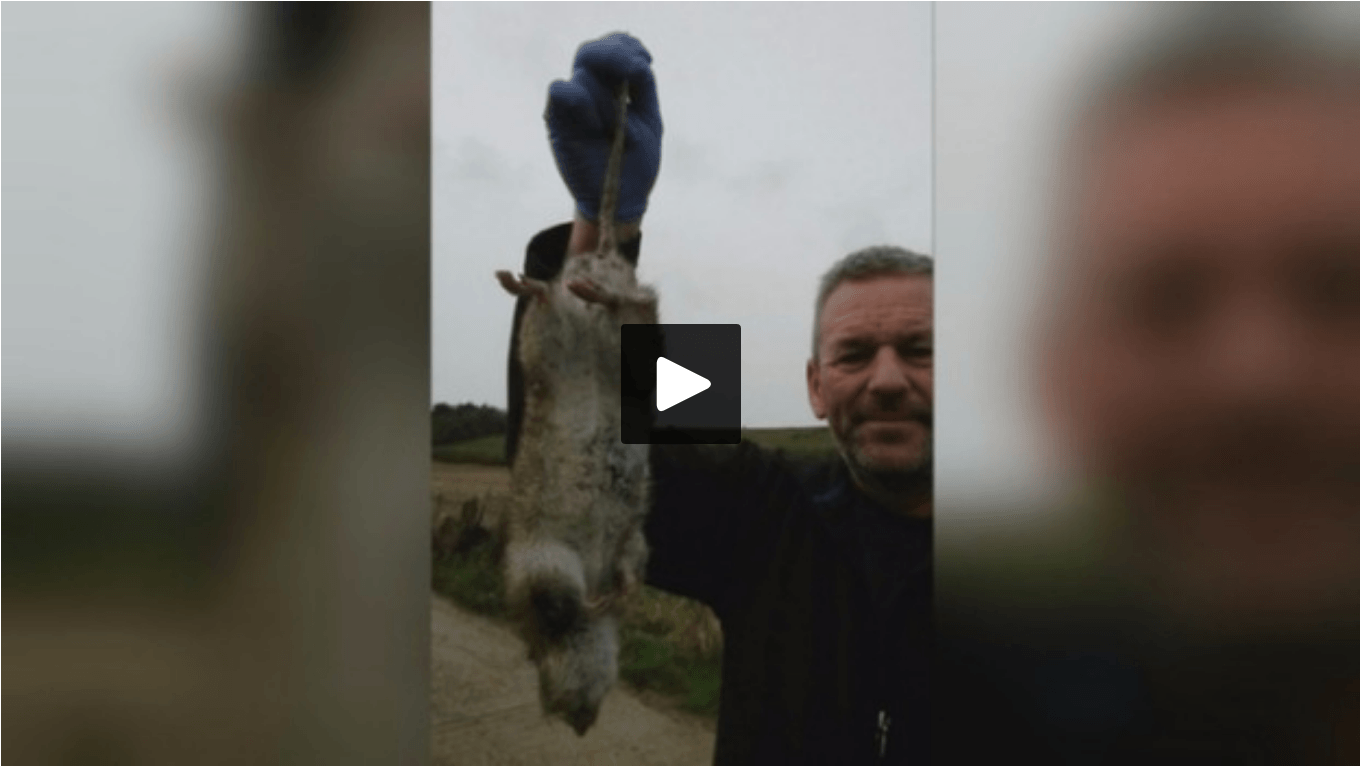 At the bottom of this page is a list of links to articles about the Britain's biggest rat story, so have a browse to find out more and see how the 19inch rat caught by Max the dog and Terry at TP Pest Services has gone viral.
The rat problem across the UK is escalating, as they are becoming resistant to many poisons that are available in the shops. It is estimated that the UK's rat population was around 80 million in 2013, and today is around 200 million. They are also growing in size, with plentiful food available as people leave waste food in places that they can get to, leave feed out for birds and keep chickens meaning the rats can take the chicken's food. Terry has noticed a clear increase in the average size of rats in his 30 years running TP Pest Services. When he started the average length was 12-14 inches, and now 18inch rats are common.
What to do if you see a rat?
If you think you have a rat on your property then the absolute best thing to do is to call the experts. We use a range of techniques to suit the situation, including the use of toxins that are not available for the public to buy in the shops, baiting and trapping and of course letting Max the dog do what he's best at. We are based in Dorset and cover a large area, and can handle everything from small pest problems in homes to large pest control contracts for businesses in both urban and rural areas. If you have a rat problem then call out the most famous pair of rat catchers in Dorset; Terry and Max from TP Pest Services!
CLICK HERE TO LEARN MORE ABOUT RAT CONTROL
Media Coverage of the Britain's Biggest Rat Story
Click the links to go to the articles